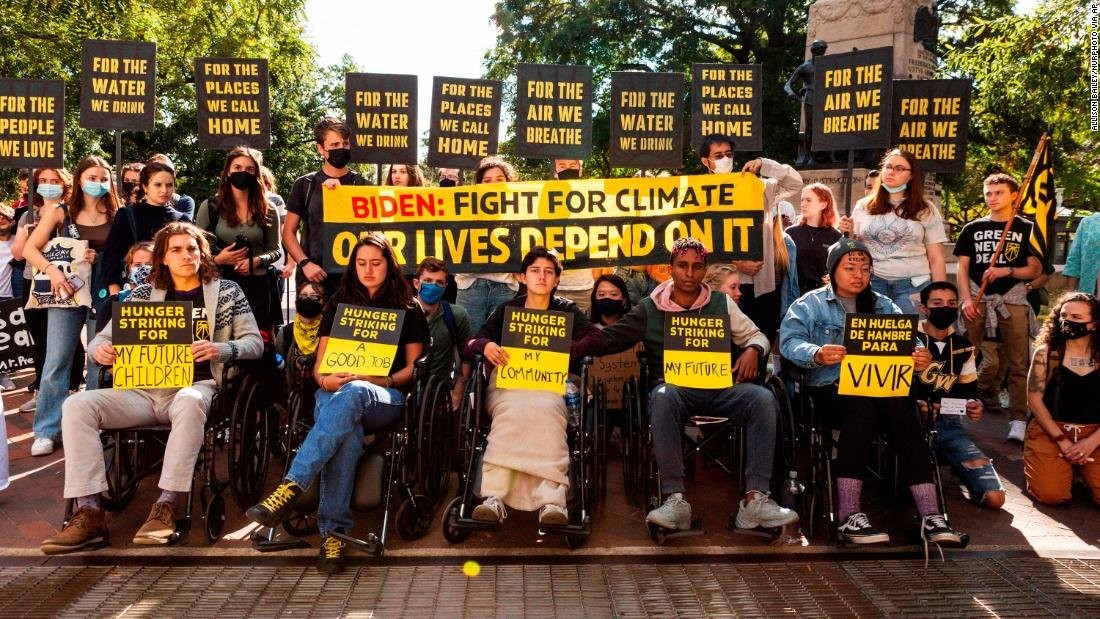 Kidus Girma, 26, a climate activist and organizer, is one of the five. He told CNN a doctor who has been monitoring the strikers sent him to the emergency room Saturday, for nausea, dizziness and blurred vision. Girma said physicians monitored him overnight, then he returned to the strike. He and his fellow strikers, who have been protesting in Lafayette Square since October 20, are now using wheelchairs to keep them steady.
"I'm seven days into the hunger strike and my body hurts, my stomach honestly feels vacuous, my body feels vacuous, and I have a headache that won't go away," Girma told CNN. "We're at the point where our muscles are being eaten up by our bodies."
It's not the first time Girma has taken bold action on behalf of the planet. In May, he said he participated in the Sunrise Movement's 400-mile march that traced the path of climate disasters from New Orleans to Houston.
"I'm waiting for my president to start fighting for me," Girma said. "I'm waiting for Joe Biden to start fighting for the people who elected him."
On Tuesday, Girma and fellow strikers Paul Campion, Ema Govea, Julia Paramo and Abby Leedy, sent a letter to the White House, addressed to President Joe Biden and White House chief of staff Ron Klain, outlining their demands for strong climate provisions in Biden's sweeping economic package, which is currently being negotiated in Congress.